If you have an album that is LIVE and FOR SALE with CD Baby, then you can use this same content for a disc you are manufacturing!
While assembling the content portion of your project, you will you see the option to use a master on file with CD Baby.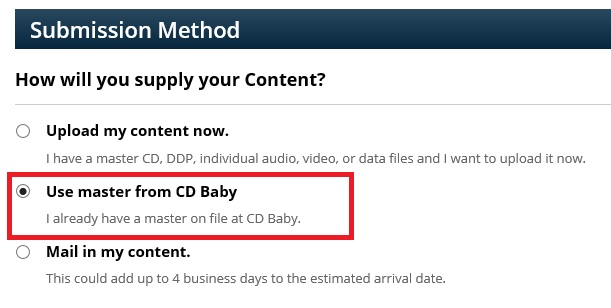 Please note:
CD Baby has two different sites.
One is called the Artist site - https://www.cdbaby.com
This is where artists sign up for digital distribution before manufacturing physical discs.
The other site is for manufacturing physical discs - https://duplication.cdbaby.com/quoter/default.aspx
While you can use the same log in for both sites, each site is unique and uses different processes.
The artwork is a different situation! The artwork required for disc manufacturing requires 300dpi files set up in our templates. The artwork supplied for the artist site is generally at 72 dpi and only a thumbnail. Stretching that image would distort the resolution and make it un-usable for manufacturing.