If you have an album that has been distributed through CD Baby, then you can use this same content for a disc you are manufacturing!
While assembling the content portion of your project, you will you see the option to use a master on file with CD Baby.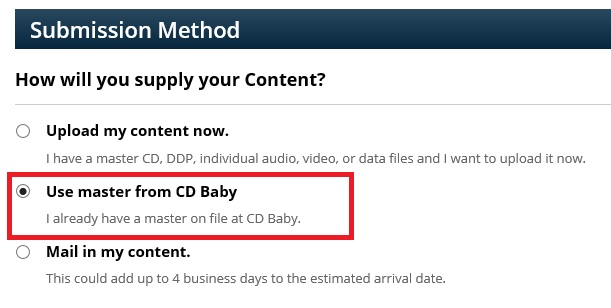 Please note: You can only select one album or one single from your artist distribution account. You will not be able to select tracks from multiple titles for this submission method.
You will not be able to preview or stream your tracks using the submission method.
CD Baby has two different sites.
One is called the Artist site - https://www.cdbaby.com
This is where artists sign up for digital distribution before manufacturing physical discs.
The other site is for manufacturing physical discs - https://duplication.cdbaby.com/quoter/default.aspx
While you can use the same log in for both sites, each site is unique and uses different processes.
The artwork is a different situation! The artwork required for disc manufacturing requires 300dpi files set up in our templates. The artwork supplied for the artist site is generally at 72 dpi and only a thumbnail. Stretching that image would distort the resolution and make it un-usable for manufacturing.