Option 1- Online Designer
We offer an option to use our online designer for either bulk discs, jewel cases, DVD cases or jacket orders at no additional cost.
Once you create and save your project, you would click on the Art section of the project and then select "Online Designer" option.
There are a variety of fonts, color backgrounds and stock images to choose from.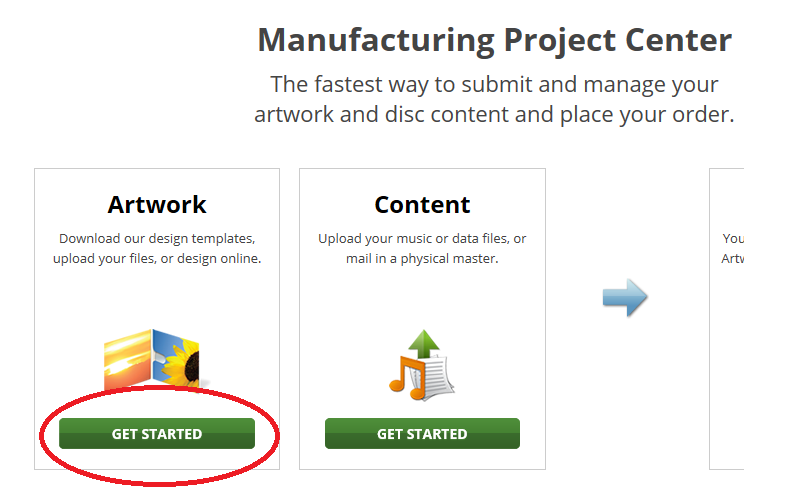 Option 2- Design Studio
If you require any other type of packaging, we offer graphic design services which might help to make your project look more professional! (Pricing is dependent upon what package you select).
You can look over the pricing options for the Design Studio here- 
https://duplication.cdbaby.com/quoter/design-studio.aspx
Option 3- Templating service
If you have completed artwork (PDF, TIFF, JPEG) but simply need it placed into our templates for you, we offer a templating service.  We'll take your supplied files, ensure that there are no issues that could cause issues during production and place them into our templates for you.
The cost for this service is $27.  To utilize this service, send an email to support@duplication.cdbaby.com and we'll be happy to see what we can do.
Make sure you've created a quote that matches the product you're looking for.
In the email subject line, include your quote number (it would start with a QT) and the "Templating Request."
Also include your files as attachments.  If they're too large to email (more than 20 MB total) we suggest sending us a 3rd party link, through services such as Dropbox, Google Drive, wetransfer.com or another link sharing service.
Include any concerns or questions you may have as well, and we'll get back to you shortly and let you know if we're able to proceed as is, or have other concerns or questions.